Theia Marketing has been chosen from among thousands of agencies to be featured by DesignRush, a marketing and technology agency ranking site that helps B2B businesses find their next partner.
You can find our listing here.
DesignRush gets over 290,000 B2B visitors each month that generates over 46,000 clicks to various agency websites.
We look forward to serving our customers and finding more new clients on DesignRush!
Hiring the right professional agency can be a difficult and complicated process. Businesses need to find experts that understand their brand value, target audience and goals. Then, agencies must execute initiatives that meet those criteria and deliver business-building results.
DesignRush aims to make the process of choosing an agency partner a little easier. We give brands more information all in one place. This saves businesses' valuable time and energy spent on research and outreach.
The executive team behind DesignRush are previous agency owners and executives. They are uniquely qualified to determine the key performance indicators that agencies must meet to be featured.
Some of the qualifications that agencies need to pass for are listed below. Companies that pass the test are then placed in an easy-to-view table.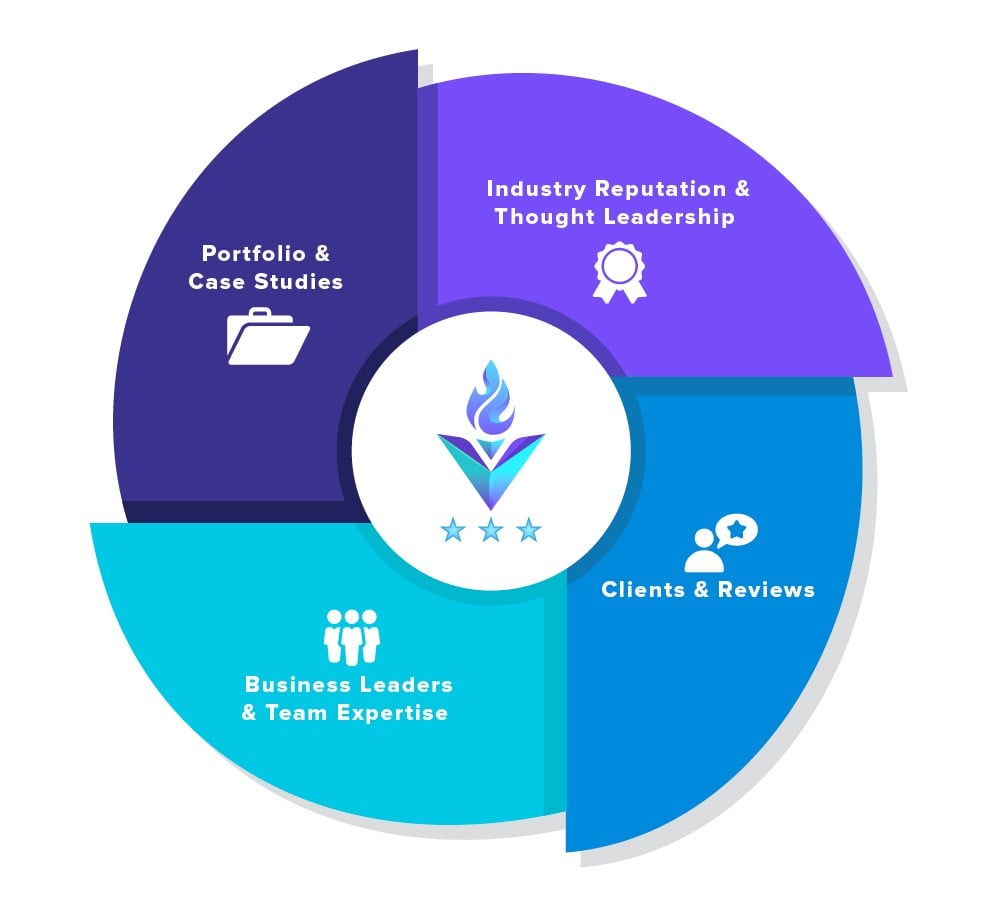 Portfolio & Case Studies
The best agencies have robust portfolios and extensive prior work that showcases their expertise in action. DesignRush evaluated each firms' past projects, success rate, and overall return on investment (ROI). Only those who foster strong business growth made our list.
In our Agency Listing section, users can also explore the agencies':
Company overview
Client list
Areas of focus
Key services and specialties
Successful projects and portfolio highlights
Industry Reputation & Thought Leadership
Top professional agencies aren't just experts in their services – they understand how to adapt to the needs of every industry, too. DesignRush examined each firms':
Press mentions
Awards and recognition
Social media presence
These demonstrate how the agencies can identify and meet the needs of each business and provide concrete results.
Business Leaders & Team Expertise
The experts working on your project are just as important as the name of the agency. DesignRush researched every company's:
Executive leadership
Average team size
Access to top talent
Collaboration with clients
This detailed information about a potential agency's will help businesses find the team that will understand your brand identity and meets your personalized needs.
Clients & Reviews
We examined the past and present clients of each agency. In addition, businesses can leave detailed testimonials sharing their experience about working with a partner firm and outlining the return on investment they received.
Users can learn about an agency's important qualities directly from the brands who collaborated with them. These include:
Quality of work
Time management
Responsiveness and client relationships
Cost and pricing structure
If the client would recommend the agency